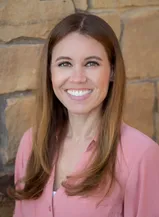 Dr. Buss has a Ph.D. in Clinical Psychology with an emphasis in Health Psychology from the APA accredited California School of Professional Psychology at Alliant International University in San Diego, California. Dr. Buss currently works in private practice (Lic.#36486), in the hill country of Austin, Texas, and provides teleconference therapy to people throughout Texas and California. She recently relocated to Texas from California, where she started her career as a licensed psychologist. Dr. Buss is very excited to be a Texan and to serve the great people of Austin!
Prior to moving to Texas, Dr. Buss worked in private practice in Rancho Santa Fe, California. Over the years, she has received a variety of clinical experience. At the Sharp Pain Rehabilitation program, Dr. Buss worked with individuals suffering from chronic pain, implementing biofeedback, relaxation-training, cognitive restructuring, acceptance training, diagnostic education, and pain medication management. At Catholic Charities Counseling Services, Dr. Buss provided individual, couple, and family therapy and psychological assessments to a low-income population ranging from young children to seniors. As part of her responsibilities, she worked as a school therapist to children grades K-8 in a local San Diego charter school. At California State University, San Marcos, Dr. Buss provided therapy, psychological assessments, and sports psychology counseling to university students. Before obtaining her license, she worked in private practice for two years as a post-doctoral psychological assistant under the supervision of Dr. Diana Weiss-Wisdom. Throughout her training experiences, Dr. Buss has provided counseling to people with various medical disorders, helping them overcome their physical suffering and reestablish a high quality of life. Dr. Buss has provided Mindfulness Based Stress Reduction and Mindfulness Based Eating Awareness Groups and is certified as an Associate Fellow in biofeedback through the Biofeedback Certification International Alliance.
Outside of her psychology work, Dr. Buss works as a certified Pilates, Spin, and Barre instructor. This work has allowed her to further understand the connection between the mind and body in health. In the Pilates and fitness studio, she helps people strengthen their bodies and improve their health while fostering a sense of motivation, self-acceptance, and self-confidence.
Dr. Buss believes that overall wellness and high quality of life involves health and balance in all areas of living: mind, body, emotion, relationships, and religion/spirituality. When one or more of these areas are unhealthy or unbalanced, people tend to experience suffering or dissatisfaction. She assists her clients in understanding their own personal definition of health and wellness, as well as areas of their life that need improvement, to achieve their highest potential and sense of well-being. The objective of therapy is to help individuals, couples, and families meet their goals, gain peace, satisfaction, fulfillment in their lives, and resume healthy living.

Dr. Buss is currently a member of the American Psychological Association, California Psychological Association, Capital Area Psychological Association, the Biofeedback Certification International Alliance, the Association for Applied Psychophysiology and Biofeedback, the International Centre for Excellence in Emotionally Focused Therapy, and the IDEA Health and Fitness Association.

Dr. Buss' License Information:

Texas Licensed Psychologist. Licensed by Texas State Board of Examiners of Psychologists. License #36486.
California Licensed Clinical Psychologist. Licensed by Board of Psychology, California Department of Consumer Affairs. License #PSY25453.
E.Passport Authority to Practice Interjurisdictional Telepsychology from the Association of State and Provincial Psychology Boards in the following states: Arizona, Colorado, Delaware, Georgia, Illinois, Missouri, Nebraska, New Hampshire, Nevada, Oklahoma, Texas, Utah, Pennsylvania, Virginia (effective 1/1/2021), and North Carolina (effective 3/1/2021).